Hi everyone!

Welcome to Kick Back Saturday! In my opinion, one of the best ways to spend a Saturday is to curl up with a book, a delicious cup of coffee or cocktail, and hang out with my writing partner, my sweet pup, Kelly!
Join me every Saturday for a book blurb and a new, tasty drink recipe - coffee or cocktail...?
Take up a book, mix a drink, and kick back.

Sweet Ruin (Immortals After Dark #16)
Description:
A foundling raised in a world of humans
Growing up, Josephine didn't know who or what she was—just that she was an outcast with strange powers. Protecting her baby brother became her entire life. The day he was taken away began Jo's transition from would-be superhero…to enchanting villain.
A lethally sensual enforcer on a mission
Archer Rune the Baneblood never fails to eliminate his target. In his sights: the oldest living Valkyrie. Yet before he strikes, a vampiric creature pierces him with aching pleasure, stealing his forbidden blood—and jeopardizing his brethren's secrets.
A boundless passion that will lead to sweet ruin…
Could this exquisite female be a spy sent by the very Valkyrie he hunts? When Jo betrays the identity of the one man she will die to protect, she and Rune become locked in a treacherous battle of wills that pits ultimate loyalty against unbridled lust.

The Drink
Black Roska - For Rune's black blood / dark purple eyes. This is Delicious!
The Black Roska is a fun variation of the classic Black Russian drink. A dark purple drink made from black vodka, Joseph Cartron creme de mure (blackberry liqueur), brown sugar, blackberries and lemon, and served over ice in a rocks glass.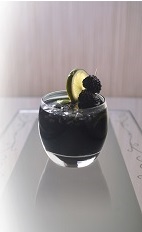 Ingredients
Muddle lemon slices and brown sugar in the bottom of a cocktail shaker.

Add black vodka and blackberry liqueur, then shake vigorously.

Strain into a rocks glass full of ice and garnish with blackberries and a cucumber slice.