by Jackie Ivie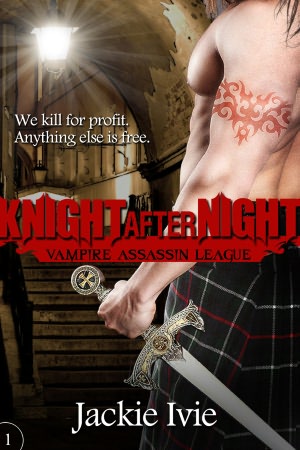 3.5 of 5 Stars
Description:
THE VAMPIRE
Highland Vampire Thoran MacKettryck's lonely. Bitter. Vengeful. For centuries now, he's taken lives for profit and drained blood for free. Just like always. But then he's gifted what every immortal craves: his mate. He just can't believe his eyes when he finally hunts her down.
HIS MATE
Jolie Pritchard's young. Studious. Driven. Studying Medieval Literature is her life and this scholarship - her dream. She's the last thing an arrogant, gorgeous, world-class playboy should be pursuing and she knows it. If only he wasn't the most thrilling male she's ever imagined...
THE CURSE
She was warned. She didn't listen.
Review:
This was an entertaining read. The beginning really caught me, the library scene where/when the main characters meet was fun, lighthearted, and I must say,
I quickly fell for
Thoran.
Thoran is a sexy, extremely wealthy vampire and an assassin, who did not expect to find his mate - well, at least he had never envisioned a woman like Jolie would be meant for him. Their conversations were amusing since Thoran has remained on the sidelines of society, knowing very little about modern slang and even clothing. They were a wonderful couple.
However, I felt the story was too short and that it was a bit choppy in the beginning. Also, due to the length, the world building left much to be desired.
I purchased the ebook set of the Vampire Assassin League series for my Nook. I LOVE vampires and I can't wait to get started on the next book, which is at the top of my To Read pile.
If you are looking for a new take on vampires, you should give this book a try.