In My Mailbox is a weekly meme, and it is hosted by The Story Siren
What I have in my mailbox this Monday. Can't wait to start working on my TBR list!
When Chloe Hawthorne is asked to chaperone her cousin during the London Season, it is with a heavy heart that she departs her home and family in Essex.Though she has been widowed for more than a year, she has yet to move on, and is loathe to do so. But when she meets her cousin's fiancee, Lord Andrew Wetherby, she must choose between honoring her cousin's impending marriage and following her heart.
Andrew Wetherby has chosen the perfect bride. She is well bred and beautiful - what more could the second son of a marquess ask for? However, when Lady Elizabeth's new chaperone arrives on the scene, he knows he's made a mistake of monumental proportions. The young widow with the russet curls captures his undivided attention, but as a gentleman, there is little he can do about it...or is there?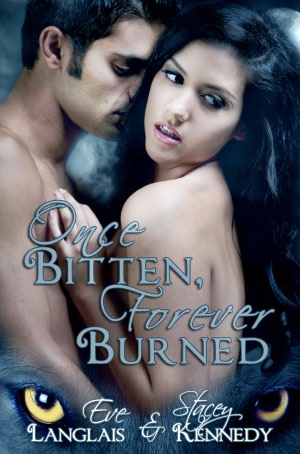 .99 cent on Nook
CRUZ'S SALVATION by Stacey Kennedy
Cruz understands torment. A mortal turned vampire in the war, he has suffered untold loneliness and despair. That is until he meets Kiara—a werewolf he's forbidden to love.
Though Kiara needs Cruz, and wants him forever, werewolves and vampires are bitter enemies. To make matters worse, her Alpha, also her father, suspects that Kiara pines for a mate. Mistaking her sadness for the longing she feels for Cruz, he sets out to give her all the happiness he can provide.
Together, Kiara and Cruz will have to fight against the rules placed upon them to hold onto their love. But an unwanted visitor creates a complication neither of them planned for. Milo, Kiara's chosen mate, has come to stake his claim. Now, not only are lives at risk, but hearts are threatened and dreams hang in the balance.
DEVON'S REDEMPTION by Eve Langlais
Bethany lost her one and only love to a war overseas. As if that weren't bad enough, a brutal attack and claiming by a Lycan makes her life a living hell. She lives only for revenge until the day love comes back into her life and promises to rescue her from her misery. However, the mate who forced her isn't about to let her go.
Devon died on the battlefield only to be reborn as a creature of the night. He fights to stay away from his one true love, but when he caves to his desire and sees her again, he discovers redemption is possible even for one who walks in darkness.